Videos – Be inspired!

An astronaut's story of curiosity, perspective and change | Leland Melvin

What job is best for a young man who's been a tennis ace, a cross-countr...

6 space technologies we can use to improve life on Earth | Danielle Wood

Danielle Wood leads the Space Enabled research group at the MIT Media La...

Space tech enabling sustainable development

Professor Danielle Wood leads the new Space Enabled Research Group at th...

Could the Earth be swallowed by a black hole?

From asteroids capable of destroying entire species to supernovae that c...

How far would you have to go to escape gravity?

Every star, black hole, human being, smartphone and atom are all constan...

Why water is really, really weird

Did you know that the water inside you has previously been inside dinosa...

How a blind astronomer found a way to hear the stars

Wanda Diaz Merced studies the light emitted by gamma-ray bursts, the mos...

NASA Programs Aims To Prepare Astronauts To Become Space Doctors

NASA and Brigham and Women's Hospital have teamed up to create a first o...

Riccardo Impavido - vincitore Finale Nazionale FameLab Italia 2018

Finale Nazionale FameLab Italia 2018 20 Aprile 2018 Sala Petrassi - Au...

Lorenzo Pizzuti - vincitore FameLab Italia 2016

Finale Nazionale di FameLab Italia 2016, il talent show della scienza do...

LUCA PERRI - vincitore di FameLab Italia 2015

La finale nazionale di FameLab Italia 2015 si è svolta a Milano presso E...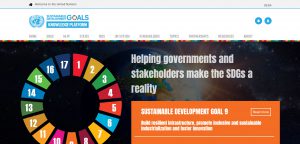 UN Sustainable development goals
The Division for Sustainable Development Goals (DSDG) in the United Nations Department of Economic and Social Affairs (UNDESA)